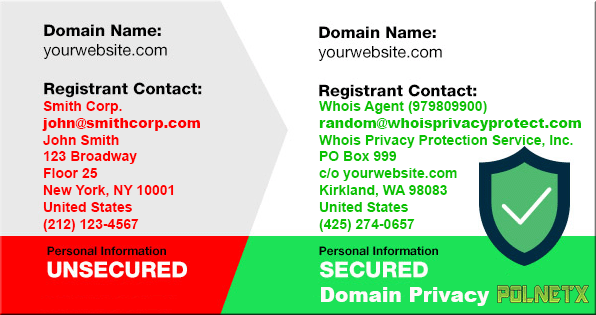 Domain Privacy
We know that you want your information to be private and protected. That said, as your domain registrar, Polnetx is required by international policies to collect several pieces of personal information and store them in a public file called a WHOIS record. It includes your name and contact info. To see the type of information that is stored, go to our Whois Lookup tool and put in any domain name, like apple.com
Protection against online identity theft
Reduced domain-related scams and junk mail
Complete control over your information
Domain Registration/Transfer Addon if eligible
$6 per domain / yr
Domain Privacy FAQs
International rules require that valid contact information—known as Whois—is available for every domain name. Domain Privacy service cloaks your identity and provides proxy contact information in the WHOIS.
Whois records are a principal source of email addresses for spammers. If your domain name has Domain Privacy service, we change the generic email address associated with your domain several times a year. Spammers will see this generic email address, but once we change it, that source of spam will be cut off.
For mail which does not appear to be unsolicited commercial mail, we will either forward the mail or fax the content to you. We will not forward junk mail, or forward any other communication if it becomes apparent that you provided the Domain Privacy address to third parties.
To prove ownership of your domain, temporarily disable Privacy Domain service and then ask the verifying party to confirm WHOIS registration details at
WHOIS Search
.